PRE-AMBLE: PRECISION. BABIES!
Florin's recent post on precision (and the comment thread), made my day. I believe that precision is the name of the game in account selection. That's the north start for Keyplay ICP scoring.​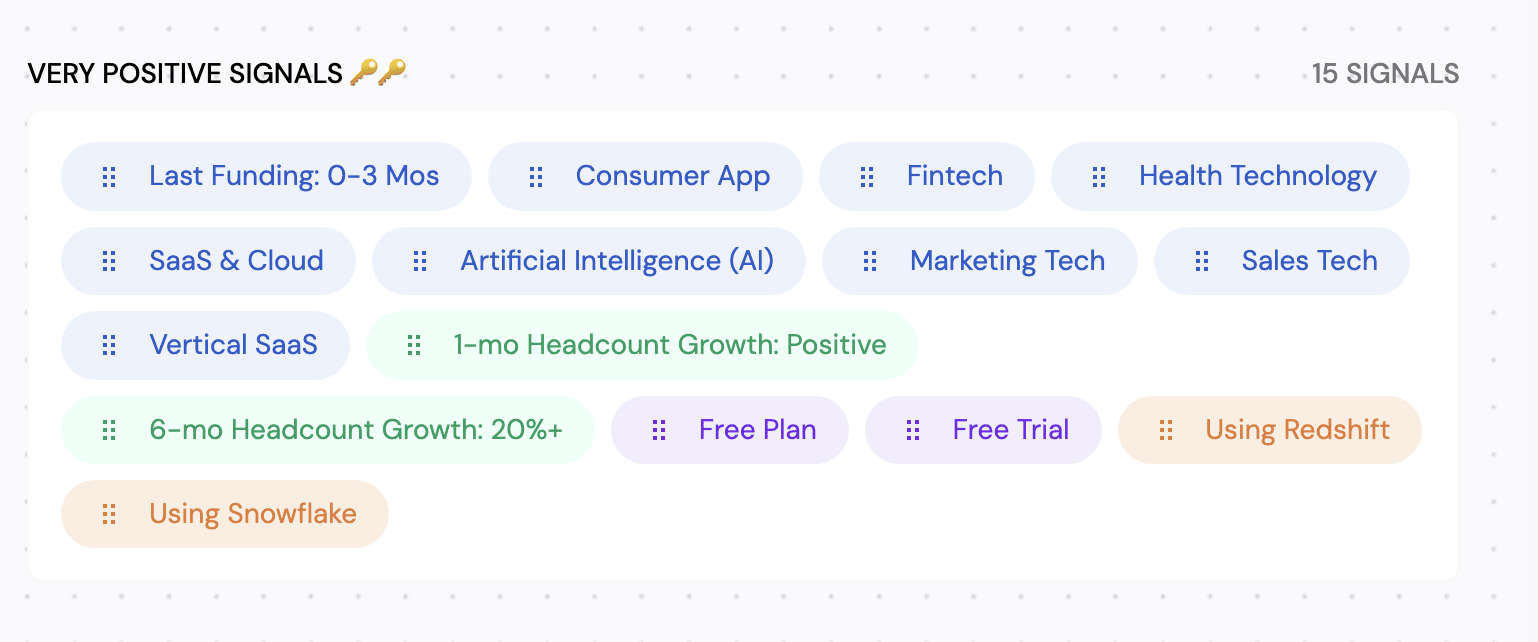 More importantly, Camille had a baby!!! Give her some 🎉❤️ and please be patient if I'm a little slower on the content the next few months.
---
RESEARCH: SECURITY = MARKETING?
This week we analyzed 50K companies to study security content as a marketing tool.
​Flip the deck here or keep scroll for the breakdown...
When I started selling SaaS 15 years ago, nobody talked about SOC 2. It was a back-end concern.
It's now front and center in B2B sales.
18% of SaaS companies make a point of putting security pages front and center on their websites.

That jumps to 26% for SaaS with Enterprise offers.

21% for all Fintech, 29% for Fintech with Enterprise offers.
Here's how it breaks down by tech & media categories: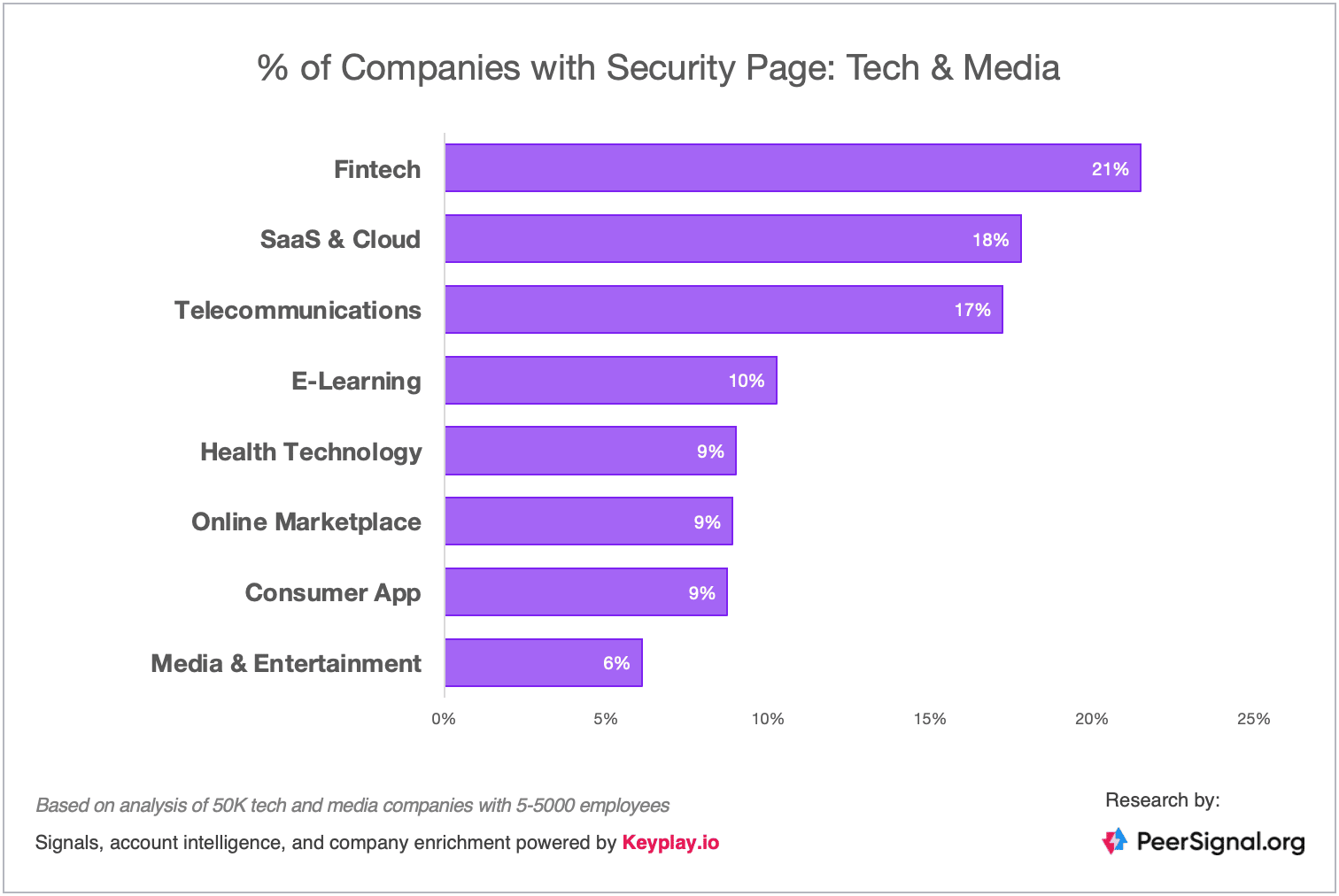 Anyone is tech sales knows that tech buyers are increasingly focused on vendor security. Public security pages are a sign that marketers are responding to this buyer pull. This approach is more common in B2B tech categories vs consumer. Fintech leads the pack, with 21% having a security page. SaaS and Telecommunications are close behind at 18% and 17% respectively.
Take a look at Float's security page or Hightouch's security page as the prototypical examples. They break it all down - certifications, principles, policies, practices, and even a dedicated security contact. It's all out in the open. The more you look around, the clearer it becomes. This isn't the exception. It's fast becoming the norm.
Correlating Factors: Enterprise Offers and Transparent Pricing
Diving deeper, our analysis found interesting correlations. Companies with enterprise offerings are significantly more likely to dedicate website space to showcase their security posture. This demonstrates an understanding that today's savvy buyers consider security a top priority.
Transparent pricing may be a less obvious correlation, but tells an interesting story about companies (and buyers) shift toward transparency. 31% of SaaS & Cloud companies with transparent pricing also have a security page compared to 18% overall. These vendors understand that modern B2B customers demand self-self information across the buying process from pricing, to educational content, to security information.
Categories that deal with money or sensitive data lead the way.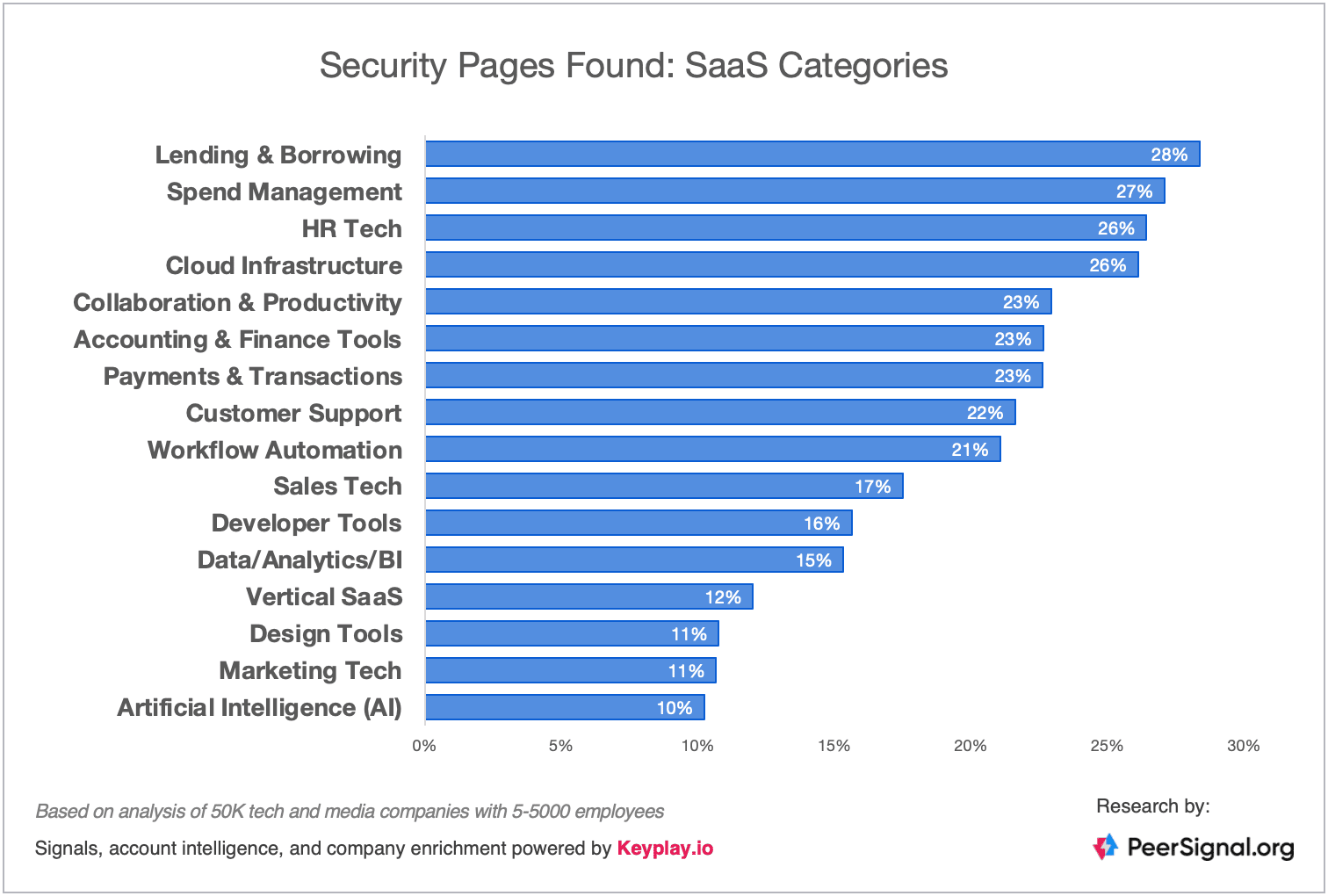 Looking at SaaS & Fintech sub-categories shows a wide range from 28% to 10%. Security content is more common in categories that deal with money or sensitive information. In these categories establishing a strong security posture is non-negotiable.
More common at bigger orgs, but many startups invest early.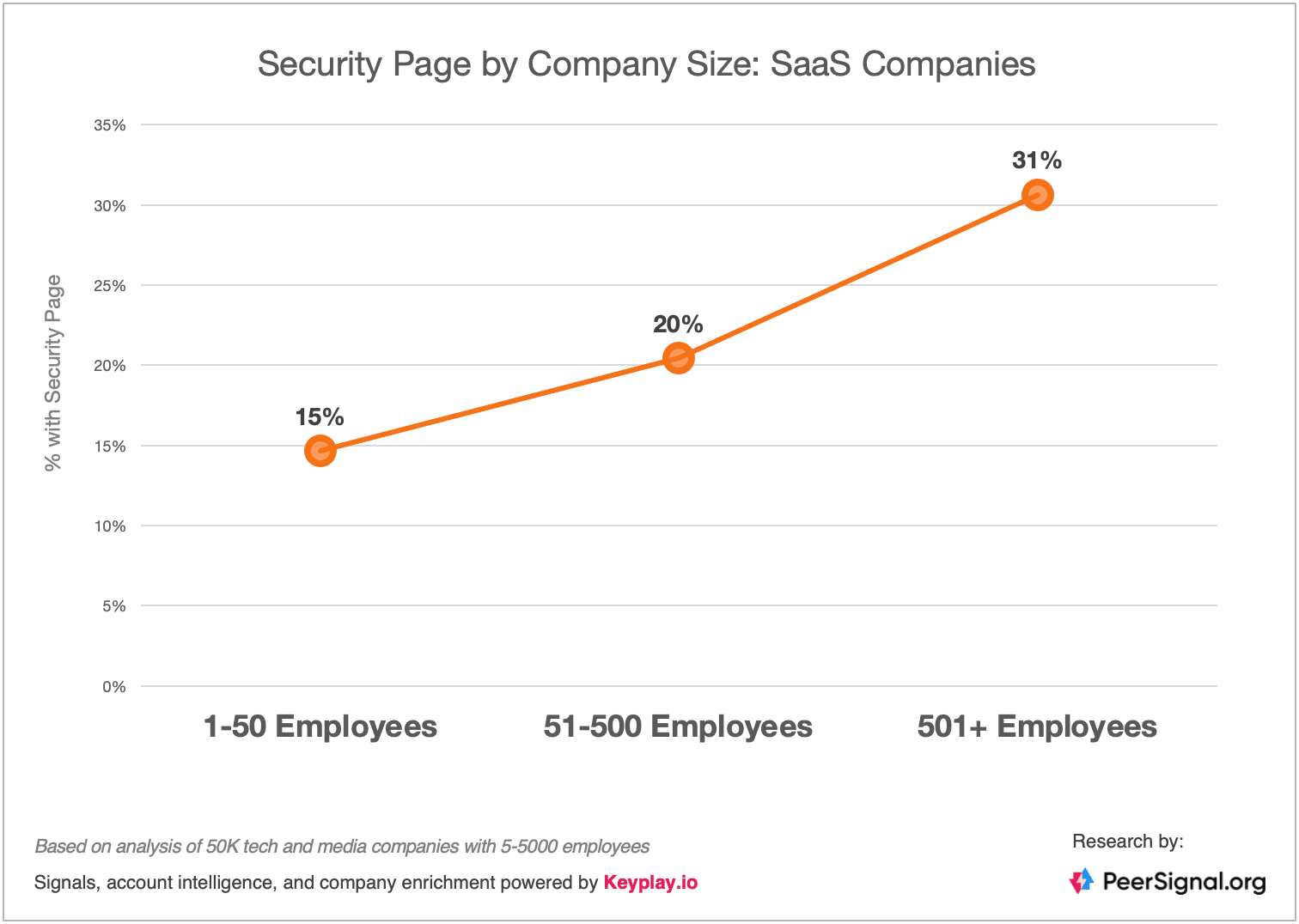 Company size also matters. Firms with more than 500 employees are twice as likely to have a security page than those with 1-50 employees. However, an impressive number of startups have also chosen to invest in this crucial aspect, emphasizing its importance even at early stages.
Here's an example from my friends at Prequel who even put "Security" in the top level nav:
Bottom line:
Security posture isn't just about protecting data anymore; it's about marketing and establishing trust with your customers.
Whether you're a fintech handling money, a SaaS company serving enterprises, or any modern tech startup, treating your security posture like a marketing message is an opportunity.
With Security & Compliance solutions like Vanta, Drata, Secureframe, Sprinto, Hyperproof, Scrut, A-lign, and more making a clear mark, this trend also offers a big opportunity for new tools and services as well.
We'll keep watching this area and sharing what we learn.
---
Have more questions or feedback? Reply or join the conversation on LinkedIn.
I read all replies.
Best,
Adam
---
Have a B2B tech company in mind you'd like us to track?
Fill out this form.
​